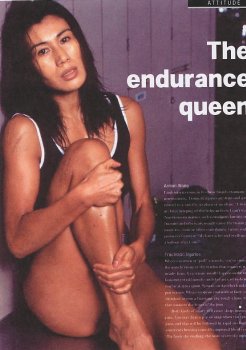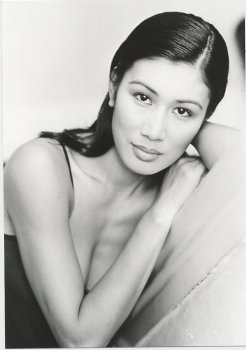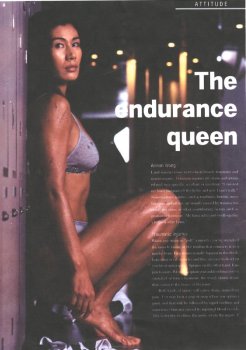 ACTION ASIA CHALLENGE
DICHOTOMY: ALMEN WONG TRANSFORMS HERSELF FROM MODEL INTO THE "ENDURANCE QUEEN" TO RUN THE ACTION ASIA CHALLENGE: OVER 25 KM OF PURE TORTURE! THE RACE IS LONG, BUT MS WONG HAS LIVED UP TO THE CHALLENGE 98-00.
Almen Wong prides herself in being in the best shape possible. Her workout regimen allows her to keep in top form for her action movie roles, and other activities. The Action Asia Challenge is a true test of strength, and endurance, as the long race traverses several different types of terrain. In 1998 she ran the race with teammates Magnus and Mauro, and her boyfriend Cosmo. In 1999 Almen ran the race with
Cosmo and Scott. She attempted to put together an all female team in 2000, but one of the girls fell ill. She ran the race with Brenda and Adrian. Almen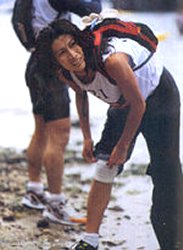 completed the course in 1998 and 1999, but due to her recent pregnancy and an injury sustained from a stunt filming the "Angel Cop" Movie she was forced to withdraw in 2000. She points out "I was told I had to stop, I was in terrible pain, I did complete 90% of the course." This is an event for charity, and she was the spokes model for the race. Ms Wong likes to donate her time to charity. Almen's humble positive attitude, along with her drive and determination seem to inspire those around her. Photo Credits: TL: Action Asia Magazine, TM: Van Hai 1997, TR: Action Asia Magazine LL: Almen finishes in 1999 HK/ENTREVIEW, LR Almen in the race. For further race information follow the link to Action Asia Challenge Action Asian Challenge race Almen has ran the past 3 years

Click the link below to see Almen with her teammate Magnus on the cover of Action Asia Magazine in 1998. Note: This full size high quality 200K file is hosted offsite.
Almen and Magnus

All text and layout (C) Danny Shamon 2001.